Before you start the process of Water Damage Restoration, it is important to know what you are looking for. Water damage is a type of loss caused by water infiltration. This type of loss often involves mold, bacteria, rotting of wood, and rusting of steel and composite wood. It can also lead to delamination of materials and deterioration of structural elements. In addition, water damage can be dangerous for your health.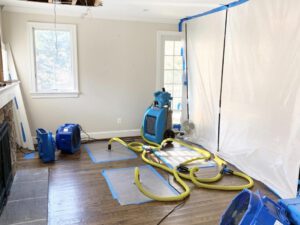 When dealing with this kind of disaster, you should seek professional help. If the damage is small and contained, you can try to deal with it by yourself. However, if the water is large, it will require professional help. Having assistance can help you get back to your life faster. You should also keep in mind that water damage may cause hazardous electrical problems and structural damage. To prevent further damage, call a professional as soon as you notice a water leak in your home. A water damage restoration professional will be gentle on your home and restore it in a safe manner.
The first step of Water Damage Restoration is to remove any standing water and soft surface materials. Secondly, restoration is the process of returning the property to its pre-loss condition. The amount of restoration required will depend on the damage caused to your home. For example, you might need air movers to dry out the affected area. Lastly, you may need antimicrobials to prevent mold from growing. The best way to determine whether your home needs Water Damage Restoration is to contact a local company.
Once the damage has been repaired, the process of rebuilding can start. This process can take four months to a year, but it is possible to make it quicker by using temporary housing and staging the reconstruction. Most companies have a customer service line to answer questions and provide references. It is also a good idea to check online review sites to find out how satisfied previous clients were. You may even end up saving money on the repair costs when your insurance company reimburses you for it.
Water Damage Restoration begins by removing damaged building materials and restoring structural elements. Some structural elements may need to be replaced. Additionally, additional insulation may need to be installed to prevent future flooding. During this process, porous building materials like carpeting, laminate flooring, and drywall are removed. Some of these materials may require a second cleaning. You can call a Water Damage Restoration company to inspect your property. The best way to find the right restoration company for your home is to compare estimates from different companies.
Once mitigation is complete, water damage restoration specialists will arrive at your property to begin the restoration process. They will remove water, remove damaged materials, and disinfect and deodorize the affected area. Often, a water damage restoration company will leave drying equipment on your property to complete the water clean-up process. The equipment is removed once the water damage restoration process is complete. The process of Water Damage Restoration can take up to a week or two.
The first step in Water Damage Restoration is to assess the damage. A professional restoration company will evaluate the extent of damage to your property, determine what materials are salvageable, and determine the best approach for restoring your home. These professionals may work with you to minimize further damage or to reduce the risk of mold. If this is not possible, water damage restoration professionals can perform other repairs to restore your property to its pre-loss condition. The first step of Water Damage Restoration is to assess the amount of water that has penetrated the building and determine if there are any hidden problems.
A professional technician is trained to handle water damage restoration projects. They will be well-equipped to use industrial fans and vacuums to completely dry your property. They will be trained in the latest technology and industry practices to ensure your home is safe for your family. Also, water damage restoration technicians have extensive experience and training, so they can help you get your home back to normal as quickly as possible. Once a water damage restoration company has assessed the damages, they can begin the restoration process.
There are many potential causes of water damage in a home. Natural causes, such as flooding or pipe bursts, or internal property problems, such as a leaking toilet, can cause excessive water to seep into a building. Water moves fast and causes damage to porous building materials. It can lead to warped walls, rotted flooring, and mold growth. Consequently, proper Water Damage Restoration is critical to prevent major damage from destroying your home.